What's your favorite Thanksgiving side dish or drink? Mashed potatoes? Buttery rolls? Party punch? We think that it's the best time to match up all the best sides and drinks with Zodiac signs. Read on to find out which side is associated with YOUR sign and feel all those yummy vibes of the holiday!
Aries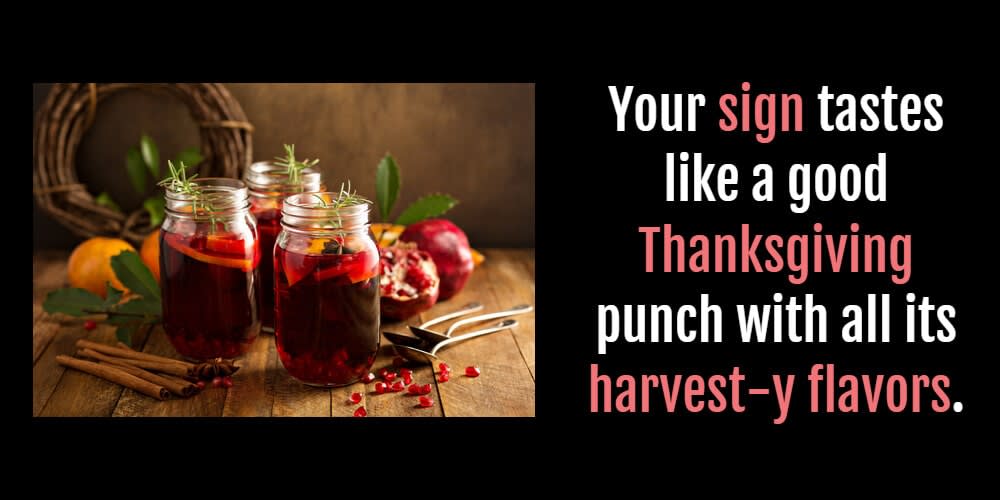 Aries natives know how to party and how to be the center of attention, so your sign's Thanksgiving drink is party punch. Seriously, your sign just tastes like a good Thanksgiving punch with all its harvest-y flavors – pomegranate, blood orange, apple cider, cinnamon, and pears. So yummy and festive!
Taurus
You probably already know which Thanksgiving side dish is associated with your sign. Of course, it's mashed potatoes! Cozy, reliable, and a total favorite of everyone at your Thanksgiving dinner, mashed potatoes will never disappoint. You can easily become friends with literally everyone you want!
Gemini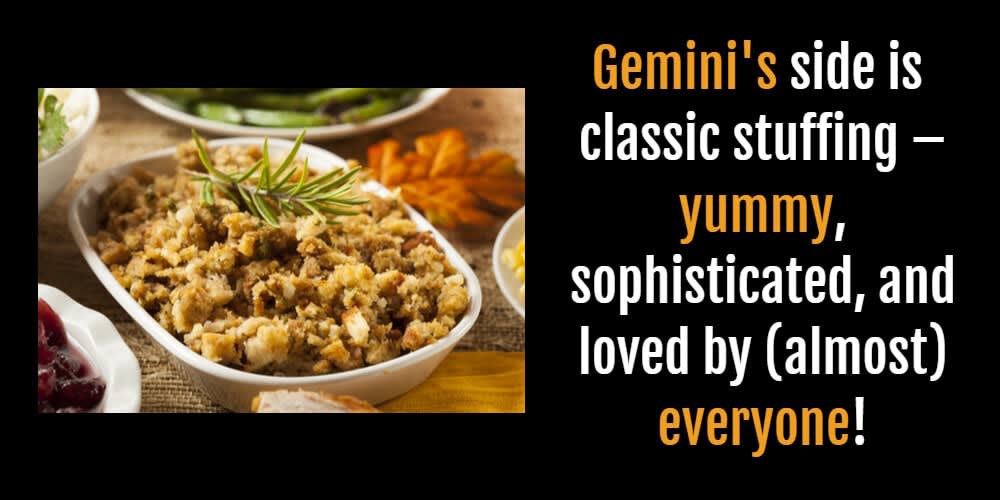 Gemini native, you're the most intelligent sign of the Zodiac. You're curious, affectionate, kind, and pride yourself on never settling for less. Which Thanksgiving side do you think is associated with your sign? Bingo! It's classic stuffing – yummy, sophisticated, and loved by (almost) everyone!
Cancer
You're a very sensitive (in a good way) and intuitive sign. Your psychic abilities never fail to help you understand what other people want – and you know that they want a yummy green bean casserole. Your sign is just like this dish: it's simple, full of amazing flavors, and makes everyone happy.
Leo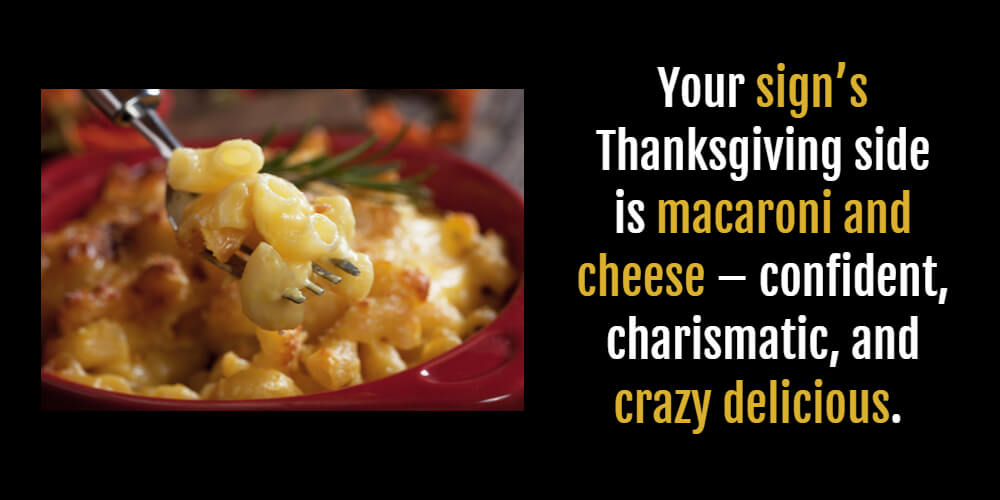 What is your Zodiac sign famous for, Leo? You know how to make people fall in love with you, you make everyone happy (kids just LOVE you), and you look spectacular (most of the time). Obviously, your sign's Thanksgiving side is macaroni and cheese – confident, charismatic, and crazy delicious.
Virgo
Your sign is logical, practical, and systematic in its approach to life. You like vintage stuff, so there's no surprise that your sign's Thanksgiving side is jello salad. It's retro, it's spectacular and dreamy, it's delicious, loved by many, and simply magical (if it's done right, of course).
Libra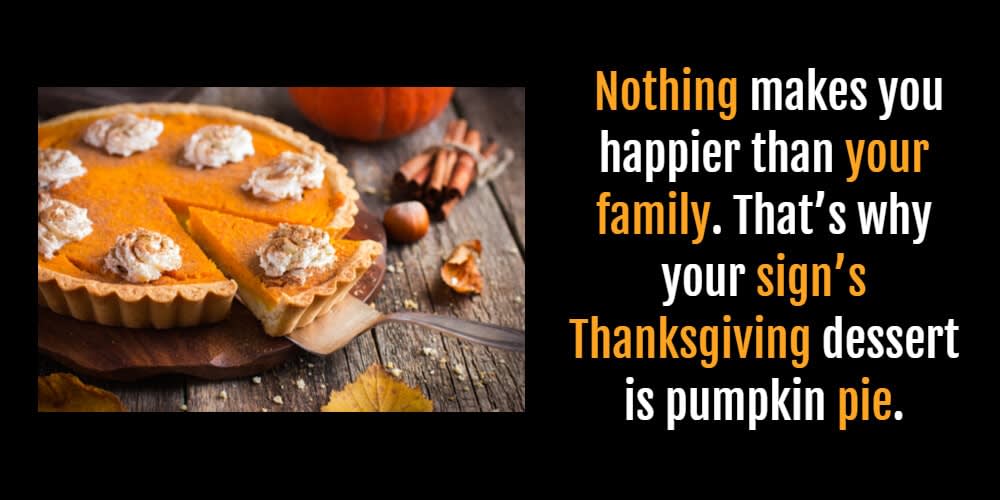 Libra natives are reliable, friendly, and know how to create and feel comfy vibes of fall. Nothing makes you happier than your family, friends, coziness, and familiarity. That's why your sign's Thanksgiving dessert is pumpkin pie. Have you ever met anyone who doesn't like pumpkin pie (or Libras)?!
Scorpio
Scorps are very deep and emotional people. They're natural leaders and can be very serious but they're also very romantic at heart. You're mysterious, smart, and sometimes juuust a bit overwhelming (and some people hate you for it). So, your sign's Thanksgiving side is obviously canned cranberries!
Sagittarius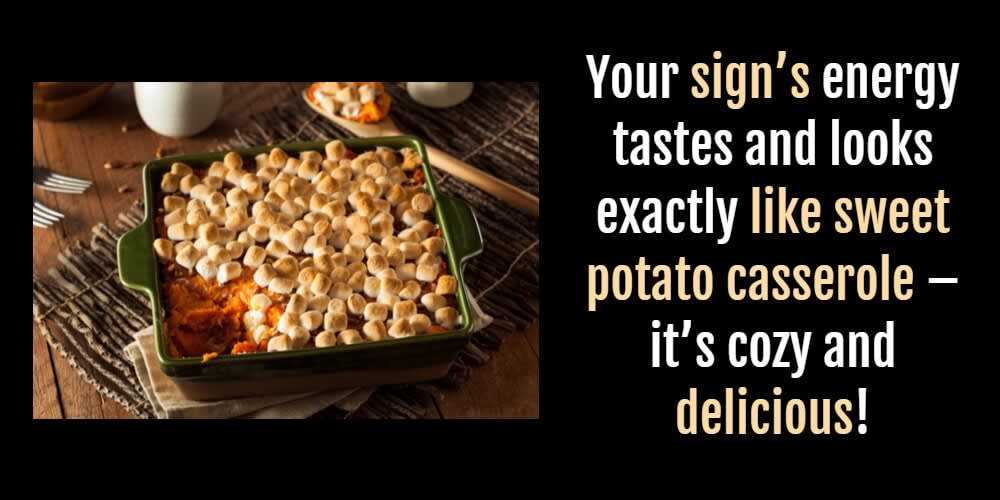 Your sign's most famous personality trait is probably optimism. You're hilarious, fair-minded, honest, spontaneous, and fun. Many people love you, and that's why your sign's Thanksgiving side is sweet potato casserole. Your sign's energy tastes and looks exactly like this dish – it's pretty, cozy, and delicious!


Capricorn
You're classy, mesmerizing, and know exactly what you want, so there's no surprise that your sign's Thanksgiving drink is wine. You also love making your own rules but tend to stay modest. And everyone knows that one will need a lot of time and experience to understand all the complex flavors of a Capricorn!
Aquarius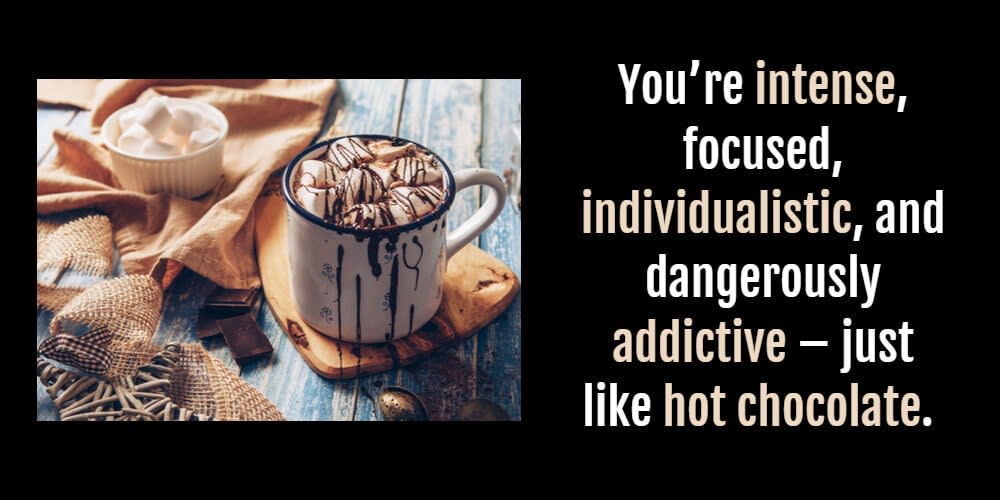 You seem to be gentle, friendly, and extremely comforting. But beneath all that, you're intense, focused, individualistic, and dangerously addictive – just like hot chocolate. Aquarius natives don't have a single, clear shape and tend to defy categorization. And you're really – REALLY – sweet.
Pisces
Okay, Piscean, everyone knows you're just like buttery rolls – you don't take yourself too seriously, you're cute, sweet, gentle, and love to have fun. And let's admit it, you're very soft and sensitive (and that's actually a good thing). Everyone loves you, and if someone says they don't, they're lying.